BLOG BLOG BLOG
---
1/19/2013
HAPPY NEW YEAR! Thanks to Paul Landry I have publicity photos. You can find Paul's work on facebook at https://www.facebook.com/paul.landry.photography or on the Web at paullandryphotography.com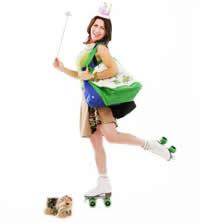 I'll be putting my calendar together for the upcoming Earth Day 2013 in April. More details coming soon!
12/5/2012
I feel like I have a few extra days to prepare for the holidays because Thanksgiving was on the 22nd. Even so I still have lots to do! I'll try to write more next year but I have a few basics I'd like to share. I always save shirt boxes and holiday bags for the next year. Baskets don't need cello if the homemade items are in cellophane to stay fresh. Stores like Nordstrom have beautiful boxes already and you can add glitter or artificial flowers to them. Pinecones natural or painted silver and gold are great to add to flower arragnements. Thrift stores have millions of flower vases for $1.00. What girl doesn't love flowers...try some arranging, it's fun! Have a White Elephant Gift Game...that will provide lots of laughs. Be creative and have fun. Email me if you have some other ideas and I'll use them or try them out next year. Happy Holidays
11/10/2012
Turkey Time is almost here. This year I'm going to find recipes to make after Thanksgiving with the left over turkey. Turkey soup, sandwiches, and something new. I have to remember to freeze the carcass so I don't have to do it all right after the big feast weekend. Reducing waste is part of recycling. I've also created a kitchen trimming bucket for my counter. I collect all the fruit and vegatable trimmings and put them in my green bin/yard trimming bin when it's full.
9/30/2012
Halloween is just around the corner. I love all the creative costumes...And the candy!!! I don't know about you but I save all my costumes, props, hats, and crazy shoes, for future costumes. I share with my friends, and try to donate things that are to small to the thrift store in early October. It's nice to share so someone else can enjoy it. Some of my best costumes have come from garments I've found at thrift stores. Dead Bride-reused as a Vampire Bride another year during the Twilight days and Lily Munster, picture below. You can't imagine how fun it is to buy a Spring dress and dye it in a vat of black dye and see the results. Add a wig and a rubber bat for a belt and some fun shoes and you're ready to enjoy the holiday. Happy Trick or Treating!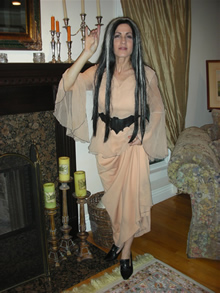 8/15/2012
It's been a great summer. Before school starts up again I looked into places to take the recyclables I've collected over the summer. My favorite so far is SA Recycling http://www.sarecycling.com they take all kinds of materials beyond the glass, plastic drinking bottles and aluminum. The employees there were very helpful and friendly and I walked away with an extra $25.00 to put toward canvas bags...I like to give them away at school demonstrations. You can also seach the Internet for recycling centers near you. Happy Recycling!
7/4/2012
This 4th of July I used decorations from last year. I also went to Pasadena to enjoy a fireworks display with lot of friends. At the end of the party we gathered the red white and blue bandanas to give to children to play with over the summer. It was great seeing recycling bins around the grounds keeping recyclable material out of the land fill. Happy Independence Day America!
6/14/2012
Thank you to Brian Castleforte for the fantastic Ruby animation picture. Love the green wheels on her roller skates. Now we can make some canvas bags for Ruby the Recycle Queen fans! If anyone is interested in sponsoring items for Ruby to give out at her performances just shoot an email to skatermcrae@aol.com.
6/11/2012
Thank you to Jose Eboli at EboliMusic.com for the wonderful Opening Theme music for my site. Thank you to Devin Talley for getting the music embedded in my Web site, and thank you to Jennifer Rahardjanoto for the fantastic Magic Message Artwork and Project Artwork!
6/10/2012
I'm busy updating my web site and added an Artwork page because I'm getting so many wonderful thank you notes. I want to share with everyone the recyclers I know who are also AMAZING artists! Enjoy!!! Ruby's Artwork Page
6/4/2012
Today Ruby visited Center for Advanced Learning in Los Angeles. Mrs. Deyer (Ali) helped organized the demostration, see photo on home page. Ruby brought Jennifer Rahardjanoto a wonderful artist and special friend with her for the first time. 100 students from Kindergarten through 5th grade learned about recycling and helped Ruby empty the trash can by placing the recyclable items in the blue recycling bin or the green yard trimming bin. The only item that stayed in the trash can was a paper cup with a foam coating to keep the contents warm. That type of cup can't be recycled in Los Angeles at this time because the plastic can't be separated from the paper (that's called a mixed material item). Jenn dazzled the students with wonderful pictures of our recycling friends Po the Penguin and Chef. There were so many "Star" recyclers that Ruby lost count!
6/1/2012
Today Ruby & friends visited Baby Sacks in Santa Monica. Paula creates one-of-a-kind baby and toddler clothes. Her clothing designs feature hand-cut appliques and an extensive collection of vintage and modern textiles - cotton prints, chenille and flannels. Each piece is a custom designed and I love her Earth Day designs including Save the Earth and Save the Whales. Paula is a big recycler too...paper, plastic and much more. She showed me around her store and told me about all the ways she recycles. Paula you're a Recycle Star! See our home page for photos of baby Natalia in her new bib.

5/4/2012
Today Ruby visited Saint Paul's Catholic School in West Los Angeles. Mrs. Mackel (Sherrie) helped organized the demostrations for both the KB and KA classes, see photo on home page. 60 Kindergartners learned about recycling and counted how many water bottles it takes to earn $1.00 at a recycling center. The answer: 20 small bottles (5 cents each) or 10 2 liter bottles (10 cents each). Kathy was the "Star" recycler and loved Ruby's pearl necklace (a thrift store find).
4/27/2012Today Ruby visited Martha Pulido's Nursery & Day Care in West Los Angeles. Mrs. Pulido (Martha) is the Baby Angel, she organized the Popsicle Box Crowns for all the kids, see photo on home page. 5 students learned about recycling and they tought Ruby a thing or two about juggling. Babies never stop moving! Griffin was the "Star" recycler. Everyone had a fun time and all the kids had choo choo train rides on the grass in the blue recycling bin.
4/26/2012
Today Ruby visited Clover Avenue Elementary School in West Los Angeles. Mrs. McLaurin, a first grade teacher helped organize the visit, see photo on home page. 120 students learned about what is recyclable in the city of Los Angeles and how they can become better recyclers. The best question from a student was, "How can I recycle if there are no recycle bins at my apartment building?" I will work on that question and see if I can help out. My advise was to write a letter to the City of Los Angeles Sanitation Department asking them for recycling bins. More to come on this BIG Question!
So I did a little work on the question regarding apartments and recycling. I found out that some trash companies separate the trash from the recyclable items. Crown disposal said they have sorting facilities and that I may be able to go on a tour. I don't think I'll wear my roller skates that day!
4/25/2012
Ruby visited her first Nursery School in West Los Angeles. Martha made wonderful recycling crowns for all the little recyclers, see photo on home page. The crowns were made from popcycle boxes...now that's a fantastic example of repurposing and reusing! Way to go Martha!
4/22/2012
Happy Earth Day 2012! There are events going on today and all week. The largest event I know of is at Universal Studios in Hollywood in partnership with The Goodwill of Southern California. For more information go to GoodwillSoCal.org
4/219/2012
Ruby performs for 1000 students at South Park Elementary School in Los Angeles. Yep, you read it correctly, South Park. The children and Ruby had a fantastic time.The BIG Question of the day was, "Where do I put unpainted wood from an old fence?" Great question Letticia! As long as the wood has no paint or varnish and you take all the nails out, it can all go into the green trash bin (yard trimmings bin). The City of Los Angeles in now accepting clean wood and fruits & vegatables in the green bin. Now these items will be used to make compost instead of going to the landfill. Compost is a fertilized soil that is made from decomposed organic materials such as leaves, grass, and fruit and vegetable scraps. Yeah! And a BIG thank you to Jana Bozeman for taking pictures and video clips and helping set up for the perfoamances!!!

Thanks to Devin for helping me with my website and this blog page. If anyone is interested in having Devin help them with a website or blog page, please contact me or watch for future blog posts.
Return to Ruby's Web site